The Self-Made Wardrobe is a project where I only wear garments I've made.
It's sort of a year long experiment in getting dressed without clothing labels – like, literally, my clothes have no labels in them, (which in some cases makes telling the front from the back tricky.)
This is the wrap up for Month 4 (November 2014). You can find more information about the project, and follow along with more in-depth blog posts here, at hollychayes.com
---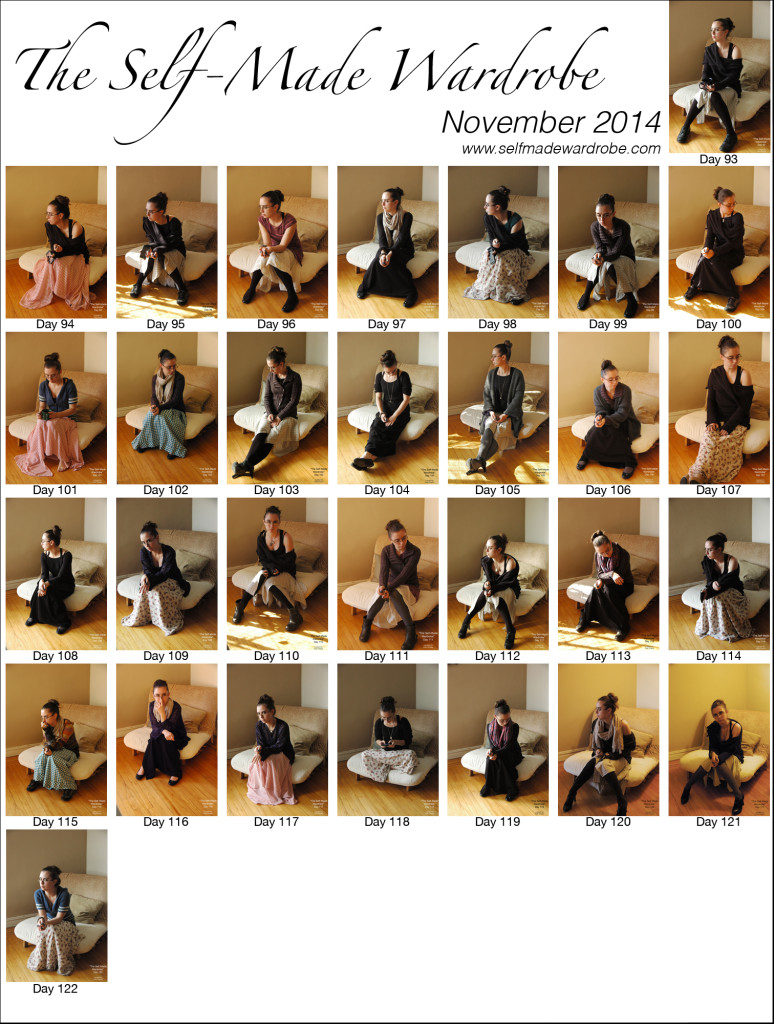 How often I wore what:
Basic Black Tank Top – 30
Deconstructed Black Sweater – 11
Graphic Silk Circle Skirt – 9
Boring Black Sweater – 8
Black Maxi Skirt with a Slit – 8
Cascading Flowers Skirt – 6
Moonstruck Cardigan – 6
Blue Kimono – 4
Pirate Skirt – 3
Hand-Knit Sweater Dress – 2
White Underskirt – 2
Gingham Skirt – 2
Transitional Weather Sweater – 2
Jade Sweater – 1
Versio Sweater – 1
Winter Coat – 2 shown, but really, I've thrown it on every time I left the house since Day 105 (even though it's still missing pockets…)
Thoughts:
This was the month I lived in basic black tank tops (like always), the Deconstructed Black Sweater, my Graphic Silk Circle Skirt, Black Maxi Skirt, and my Boring Black Sweater.
I'm not super surprised since they're kind of the most basic, versatile and comfortable pieces in my self-made wardrobe. Not the most interesting pieces to make, and not the easiest pieces to photograph, but definitely the easiest pieces to throw on in the morning.
There were a couple staggeringly warm days so my other sweaters didn't get as much wear as I would have expected them to in November – but they're definitely getting a work out this December & January, as I expect they will be for the rest of the winter.
November was surprisingly low on "new garments made." I finished the Deconstructed Black Sweater right at the beginning of the month, but that was it I don't think I finished any other pieces in November – that didn't change much in December, but really really needs to change (and has started to change!) in January, because I'm getting sick of my closet again.
I'm working on December's wrap up (Month 5) and am hoping to get it posted before February.
---
As always, if you'd like more frequent weekly updates, you can find those every Friday on hollychayes.com.