The Self-Made Wardrobe is a project where I only wear garments I've made.
It's sort of a year long experiment in getting dressed without clothing labels.
This is the wrap up for Month 5 of the project – December 2014. You can find more information about the project, and follow along with more in-depth blog posts here, at hollychayes.com
---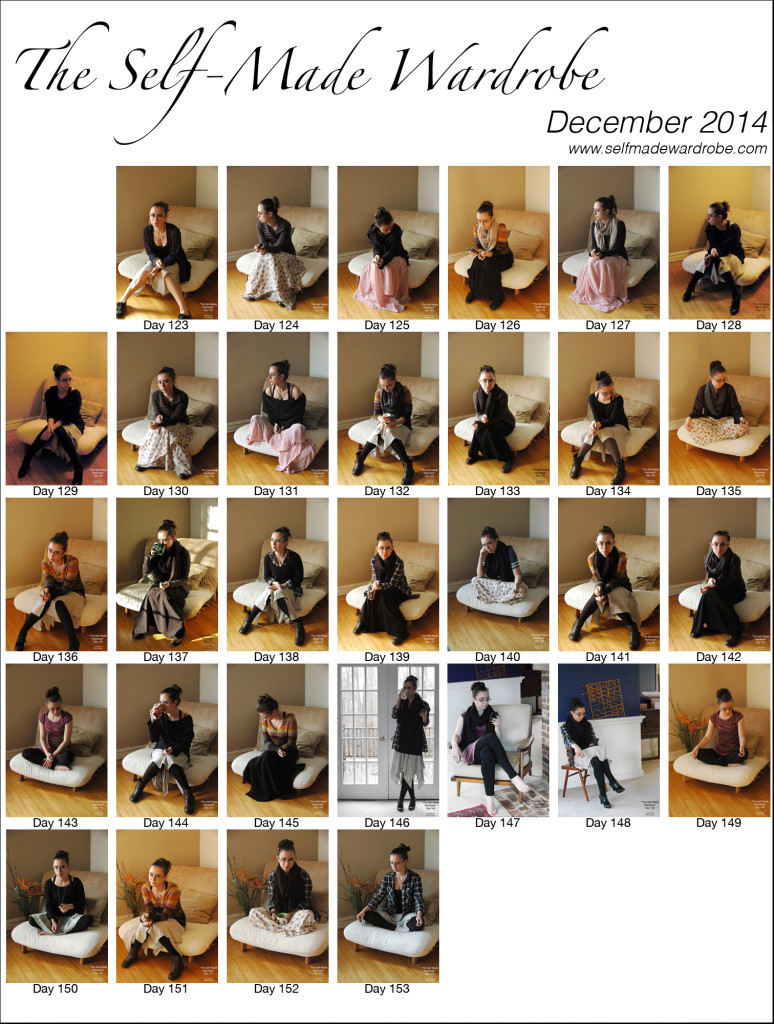 Basic Black Tank Top – 31
Graphic Silk Circle Skirt – 13
Blue & Green Archer Button Up Shirt – 6
Versio Sweater – 6
Black Maxi Skirt – 6
Boring Black Sweater – 6
Moonstruck Cardigan – 5
Cascading Flowers Skirt – 5
Deconstructed Sweater – 5
Hand Knit Sweater Dress – 3
Pirate Skirt – 3
Blue Kimono – 2
Birds & Wheels Flare Skirt – 1
Transitional Weather Sweater – 1
I'm a couple months behind on writing these posts and December (Month 5 of the self-made wardrobe) feels like it was forever and a half ago, so I'll keep this short and sweet with just a couple of thoughts.
Thought 1: I wore about the same number of pieces as I did in Months 3 & 4, but because I was layering I wore each piece more often – so there aren't as many pieces that I wore just once or twice, which is kind of cool. I really like knowing that the pieces I make are pieces I want to wear again and again.
Thought 2: I forgot exactly how damn warm it was at the beginning of December. I'm writing this in the middle of February after weeks of snow and freezing temperatures – Boston is breaking snow records left right and center – and here in NYC today's low is supposed to be 5 degrees Fahrenheit. After what feels like forever of doubling up on tights & socks I really miss what I wore December 1st.
Thought 3: At the beginning of this wardrobe project I wasn't super good about posting my finished projects – bad blogger no coffee – I was still trying to find a photo set up that worked, while still making clothes quickly enough so that I'd have something to wear – and something just had to give. The thing that gave was posting detailed posts about each individual project. Sad panda.
So! I'm now catching up, and there are only really two pieces (my black tank tops & my cascading flowers skirt) that I wear on a very consistent basis that I haven't posted about – so I'm calling that a huge win!
Thought 3.5: I've also instituted a "must not wear item until it has been blogged (or at least photographed)" rule, which I'm hoping will get me into the habit of photographing & blogging projects soon after I've made them.
Fingers crossed.
And that's that! Three (and a half) thoughts to wrap up December with. Expect January's wrap up in about a week or two.