The dress is starting to look like an actual dress! Wheeee!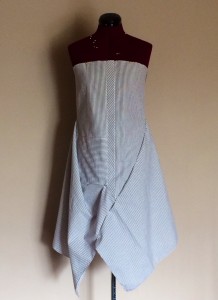 There's still a bunch to do, (sewing the skirt together, hemming, straps, and all the finishing) but I'm mentally ready for this dress to be finished so I can move on to the next thing.
I'm planning on building a couple tops next. Not sure exactly what they'll be, but they will be tops (of some kind.)
Probably a couple tanks, camis and an over-shirt or two.
All of this while I procrastinate like hell on making jeans.
I know how I want to tackle jeans. I want to take apart a pair I currently own, pattern them and alter that pattern. And I know I can (in theory) make a pair of jeans, but they seem quite intimidating at the moment…