So I restarted the grey & white seersucker dress and I'm feeling much (much much much) better about it.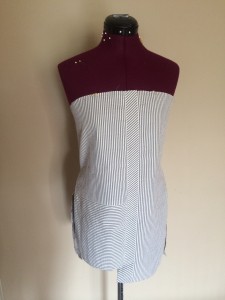 It's basically a shift dress, but I'll add gourds to the skirt to make the skirt full, and keep playing with the stripes to make it interesting.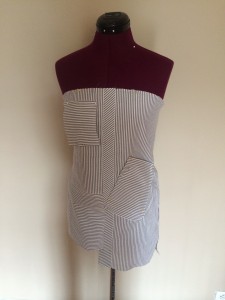 And I get to add pockets!
Not loving the placement of these two, but I'll definitely be adding at least two pockets.
Pockets, pockets, pockets!
I'm crazy excited about being able to create a wardrobe with a plethora of pockets, instead of a significant pocket deficiency.
I could put pockets on EVERYTHING!!
(I won't, but I could.)
I know this dress is going to be tons better because of how easily it's coming together. It took ages to finish the first bodice, and I felt like I was fighting it the entire way. But this bodice came together this morning, and while the dress isn't close to done, I don't want to stuff it in the trash and light it on fire either, which is a huge step in the right direction.
Yay ease! (and pockets!)