I restarted the Self-Made Wardrobe Project at the beginning of August.
When I restarted it, I decided to move the posts over to hollychayes.com. Keeping up 2 separate blogs, on top of building an entire wardrobe, on top of everything else I already do, was one thing too many.
This is the first month's wrap up post, and was originally posted on hollychayes.com.
If you want to read more about the project & sign up for updates, you can over here.
---
Since it's almost the end of the second month of the self-made wardrobe project, I figured I should probably get around to posting the first month's wrap up.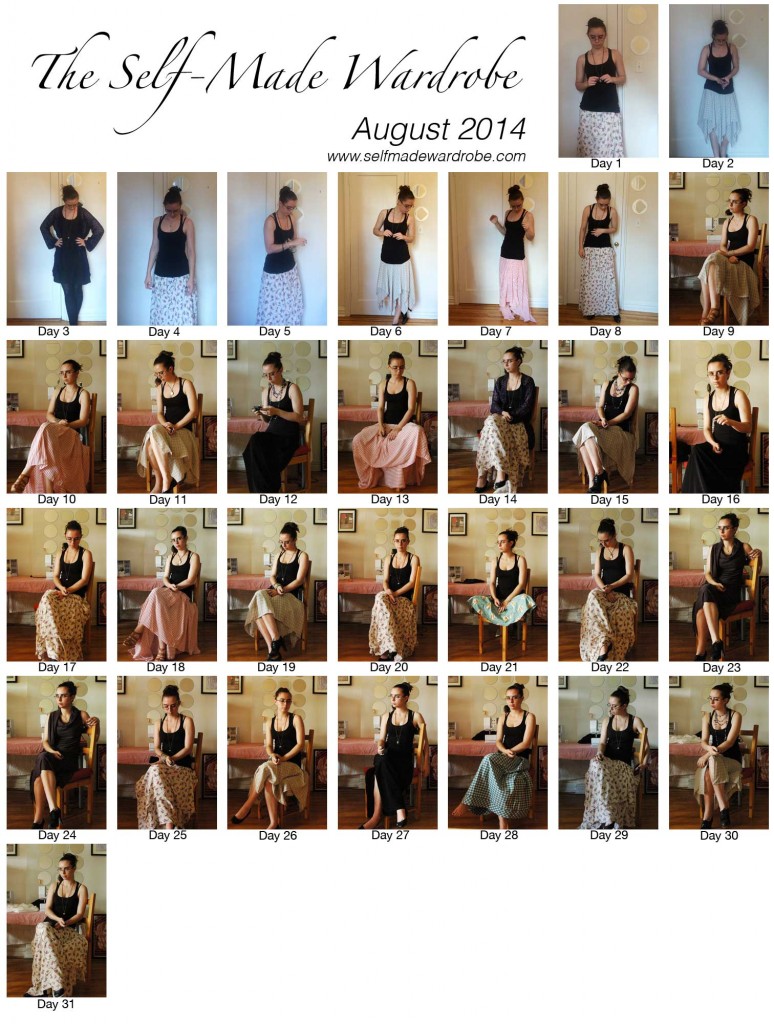 August was the month of figuring out systems and routines for this project.
Creating a wardrobe building "plan." Figuring out how to seamlessly take a photo every day, and then turn those photos into a post every week. A new laundry routine. A different kind of sewing & knitting practice.
Finding routines, making plans, figuring out systems, and streamlining thing – that's what August was about.
How often did I wear what?
Black tank tops: 28 days
Floral Maxi Skirt: 11 days
Handkerchief Hem Circle Skirt: 8 days
Red & White Striped Pirate Skirt: 4 days
Black Maxi Skirt with Slit: 3 days
Jersey Wrap Dress: 2 days
Blue Kimono: 2 days
Black Racer Back Mini Dress: 1 day
Alice in Wonderland Skirt: 1 day
Gingham Skirt: 1 day
Why?
The Black Tank Top – my default.
The Floral Maxi Skirt – sort of took the place of jeans throughout August, easy to throw on and comfortable.
The Handkerchief Hem Circle Skirt & the Red and White Striped Pirate Skirt – I love both of these too, but they weren't quite as easy to throw on as the floral maxi skirt.
Black maxi skirt with slit – adore. But the length really only works with flats.
Jersey Wrap Dress – I wore this on an overnight trip, I wanted something that was super comfy for the train ride, and that I wouldn't mind wearing two days in a row.
Blue Kimono – this was one of the first pieces I made for this project, but I didn't need it much in August.
Black Racer Back Mini Dress – I can't believe I wore this with tights & the kimono on Day 3 – it was a cool/chilly day, but it was still August. I haven't worn it more, because it's a pinch to tight, so I want to add tuxedo stripes, and a touch more ease.
Alice in Wonderland Skirt – as much as I love this skirt, I have to be in the right mood to wear it.
Gingham Skirt – I finished this late in the month, it's not my favorite piece ever, but I like it.
In Case You Want to Catch Up on The Project
: Day 1
: Week 1 – the first 8 days of the self-made wardrobe project.
: Week 2 – getting a handle on everything.
: Week 3 – starting to look towards fall.
: Week 4 – the end of month 1.
: The basic plan is balance – well, unbalanced balance.
: The Versio Sweater – beginnings.
: What's the difference between knitted & woven fabric?
---
The Self-Made Wardrobe is a project where I only wear garments I've made, for one year. You can read more about the project here.
---